Tem Bigato Nessa Goiaba, a metaphorical series imagined in the wake of a break-up, reads like a rebirth. In the burning landscapes of her native Brazil, photographer Cecilia Sordi Campos imagines complex narratives, crossing her own story with that of an entire country's.
"To live, and to love is visceral",
states Cecilia Sordi Campos. Ardent flames, burning skins, scars, veins, body paintings… The photographer translates the incandescence of senses in her images. A collection of strong pictures, saturating our markers and revealing a world made of enigmas and contrasts. By layers – both colourful and sticky – the artist draws on reality and imbues it with magic. In this metamorphosis guided by a desire for freedom and fluidity, she cries to the world through the photographic medium.
Born in a small sugar cane town in São Paulo, Cecilia Sordi Campos flew to Australia when she was 17 years old. "I moved there to work as an aupair for a family member and ended up staying, for love, as cliché as it sounds", she tells us. There, without any experience, she turned to photography, something she viewed at the time as a means to communicate with a foreign culture. "Back then, I didn't really know what being a photographer was and meant, so I started my education in the field. It was through my studies that I began to understand that photography could be used as a tool for self-expression, to communicate the things that often get lost in translation, as I live life in two languages", explains Cecilia, who then started an autobiographical project, inspired by her own migration. An intuitive body of work able to collapse linguistic barriers and give birth to an abstract dialogue, whose colour palette, symbolic and rhythm resonate universally.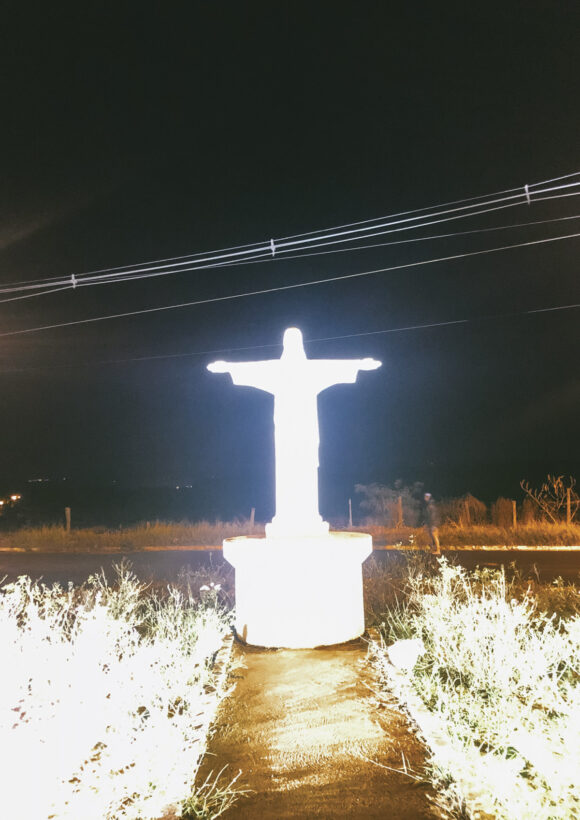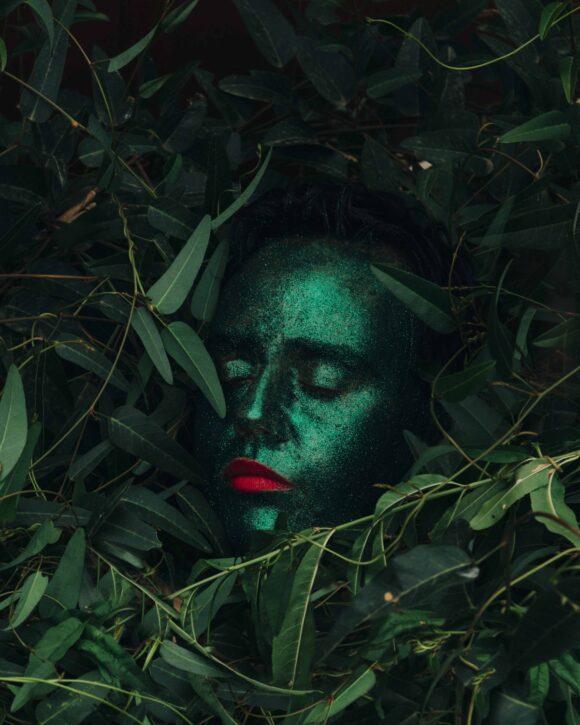 An erotic dive into a familiar territory
Terribly intimate, Tem Bigato Nessa Goiaba reads like an emotional story, torn from the artist's chest. A tale tinged with magical realism, taking shape in the aftermath of a love-affair – an abusive ten-year relationship played out in the Australian wilderness. "I realised that I had become quite alienated from Brazilian culture while married, and as a migrant, I believed I had to conform, albeit unconsciously, to attributes imposed on me. As I began to forget my mother tongue, I recognised that I was removing the last part of me that had any connection to my Brazilian identity", the photographer tells us.
After divorcing her husband, she flew back to Latin America, eager to reunite with her native region. "Most of the images were made during a three-week period in Brazil in 2019. I went back home for the first time as a single woman. Going back home was liberating as I finally allowed myself to be seduced and ultimately fall in love with my birthplace once more", she tells us. An erotic dive into a familiar territory the photographer captured as she would a long-lost lover. With a contagious pleasure, she weaved an intimate story, a collection of liberated perceptions – a return to life, a shot of excitement, after spending a decade asphyxiated. Organised in diptychs, the series borrows from the festive rhythm of samba – a traditional music from Brazil – whose percussions, illustrated as pairs of images, blend together strong and peaceful emotions. Languorous jerks accentuating the sensual reunion between Cecilia Sordi Campos and her environment. A reunion that became an allegory of her reappropriation of her body after years of psychological abuse.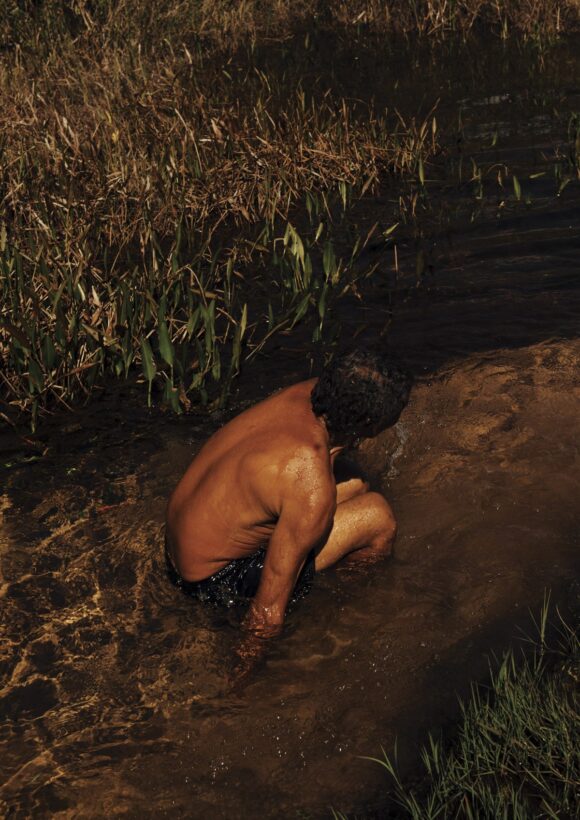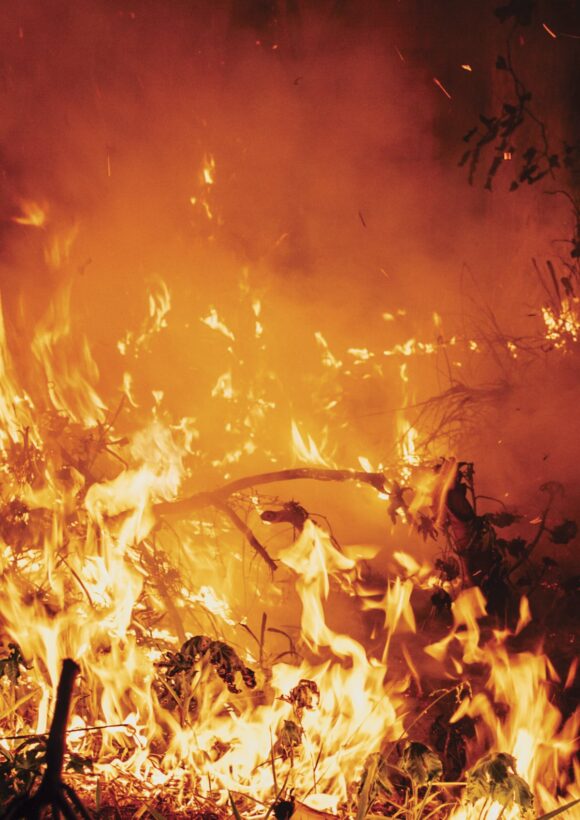 Overcome one's malaise
But fire burns, in the photographer's work. Flames licking bodies, vegetation and elevating the landscape while turning its beauty to ashes. A hypnotic fury encapsulating the artist's desire to escape – and to be reborn. Yet, this intuitive reaction was quickly anchored in a poignant reality. "While I was in Brazil, the field behind my mother's house started to burn and I intuitively spent time there making images. I did not know then that the Amazon would soon start to burn. Shortly after my arrival back in Australia, they began to spread further, their black smoke becoming visible from space. The fires thus became a literal representation of the events that were happening in Brazil. Fire in the images depicted my own rage towards Jair Bolsonaro: the country I started to fall back in love with started to burn seemingly at his command", the photographer tells us. From personal to public, from inner suffering to that of an entire people's, Tem Bigato Nessa Goiaba is ultimately about transformation. About the mutations of people who, in the face of pain, can only evolve to overcome their malaise.
Inspired by Oswald de Andrade's Anthropophagic Manifesto, in which the Brazilian poet and writer coined the notion of "the devouring of the self", Cecilia Sordi Campos created a complex fresque with many levels of reading. "In this poetic text, he mentions the Tupinambá ritual, in which the Tupis – the largest Indigenous peoples of Brazil before colonization – cannibalised their enemies to supposedly absorb their strengths, she explains. De Andrade proposed to 'devour' European, as well as Brazilian and Indigenous, cultural influences and customs. Once these are devoured, they are then transformed into a new form of expression or aesthetic revolution." A metaphorical cannibalism echoing her own interrogations. And by "absorbing" her adversaries' flesh, the artist manages, through imagery, to let go of a toxic relationship, while picturing a harmonious cultural hybridation.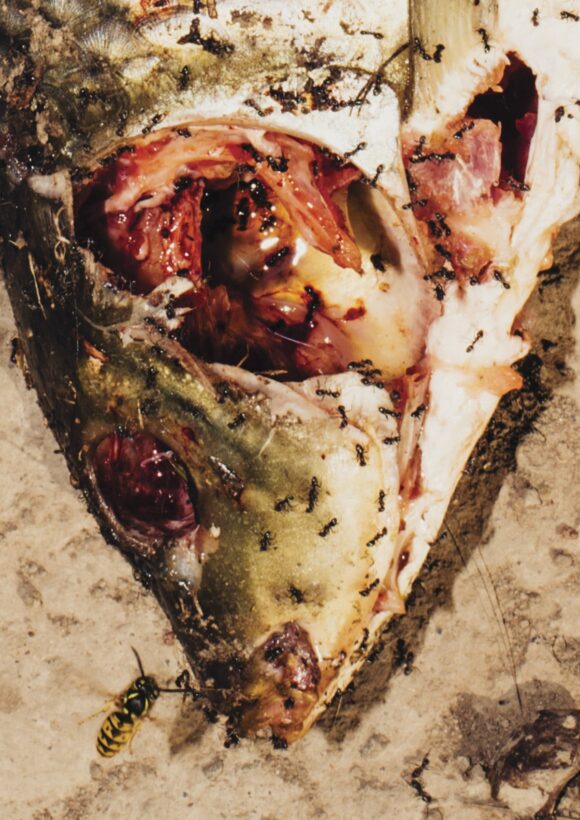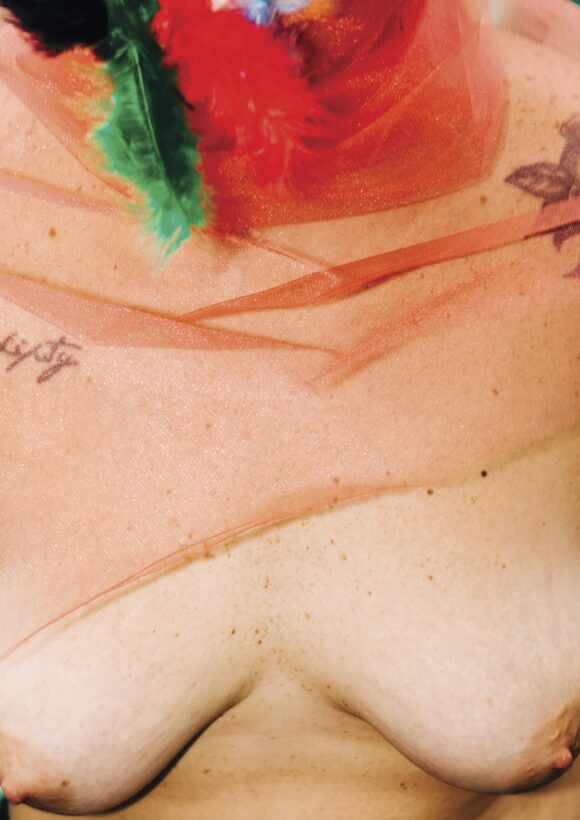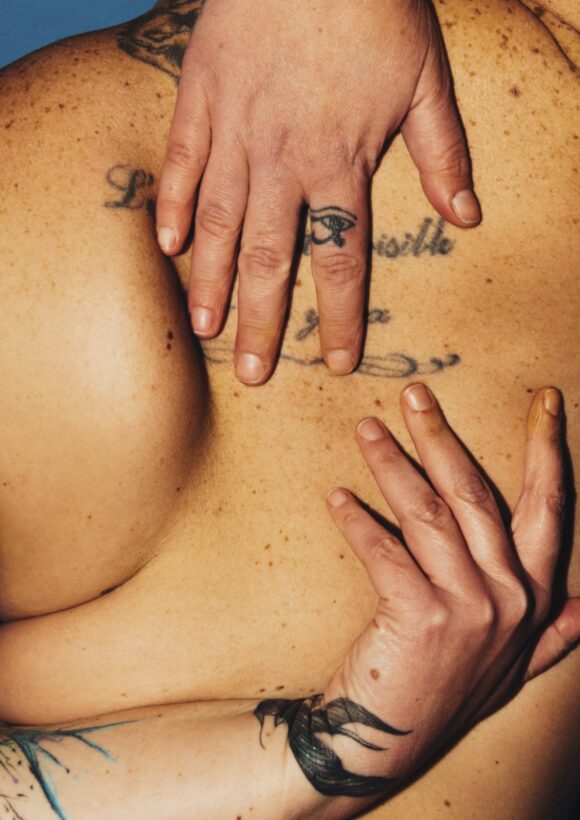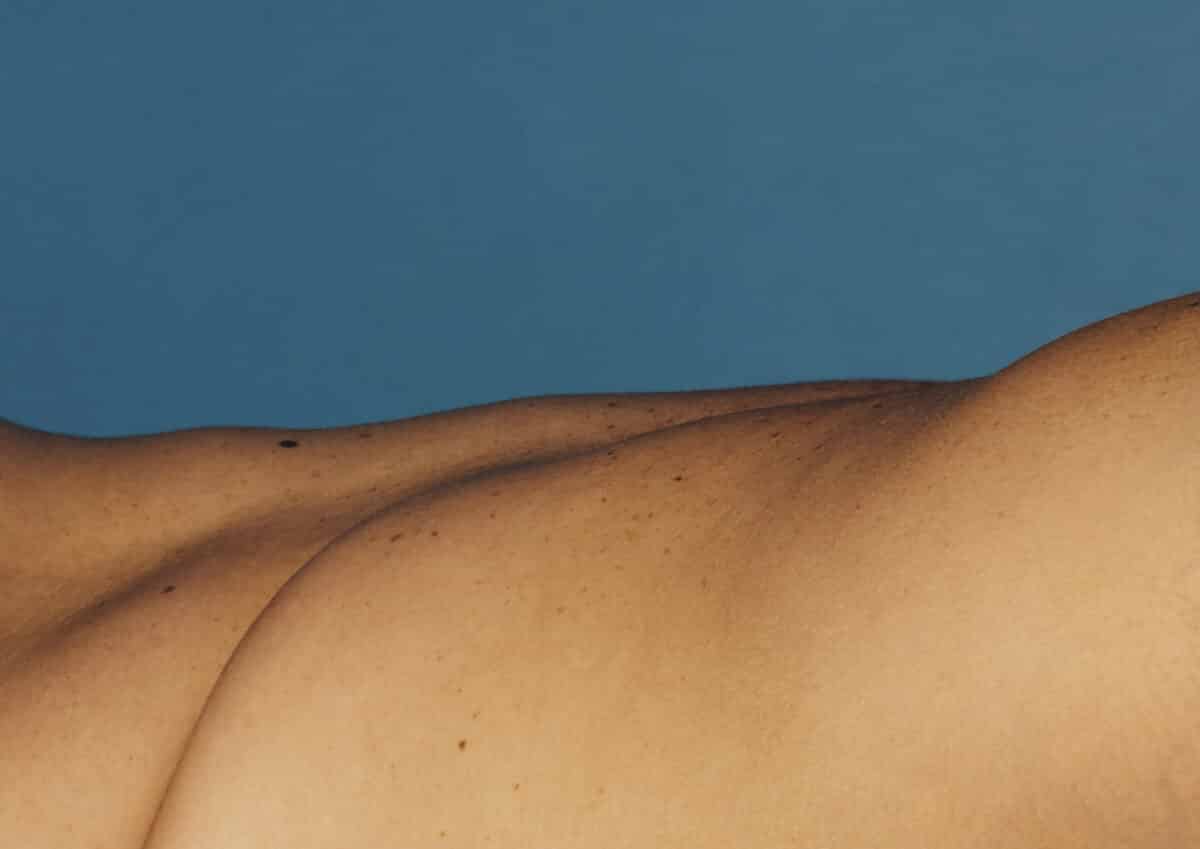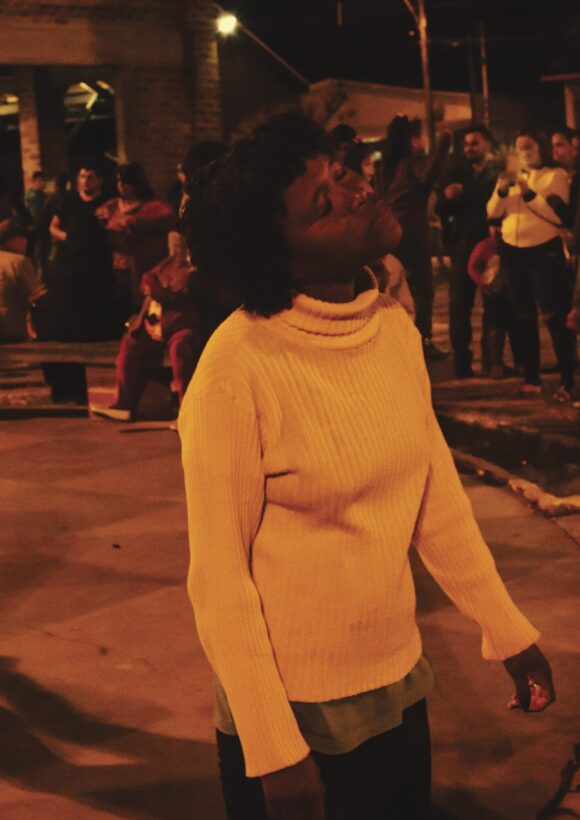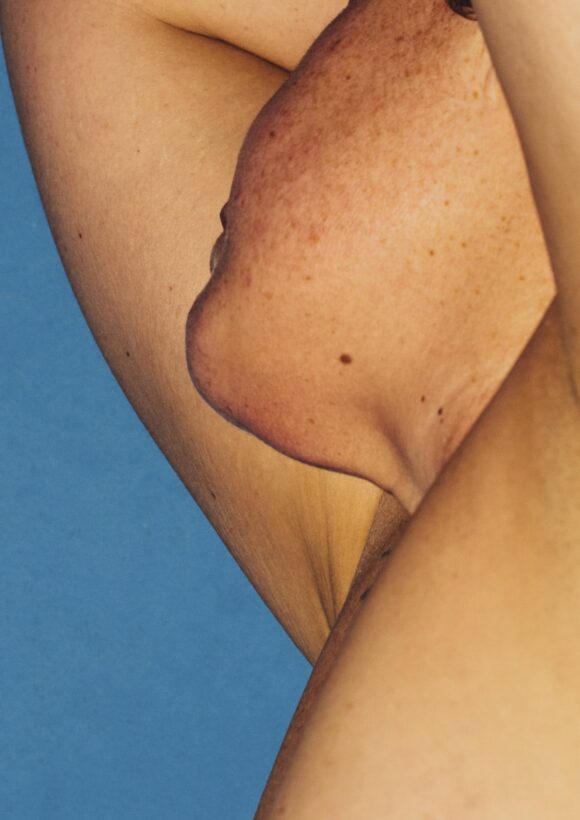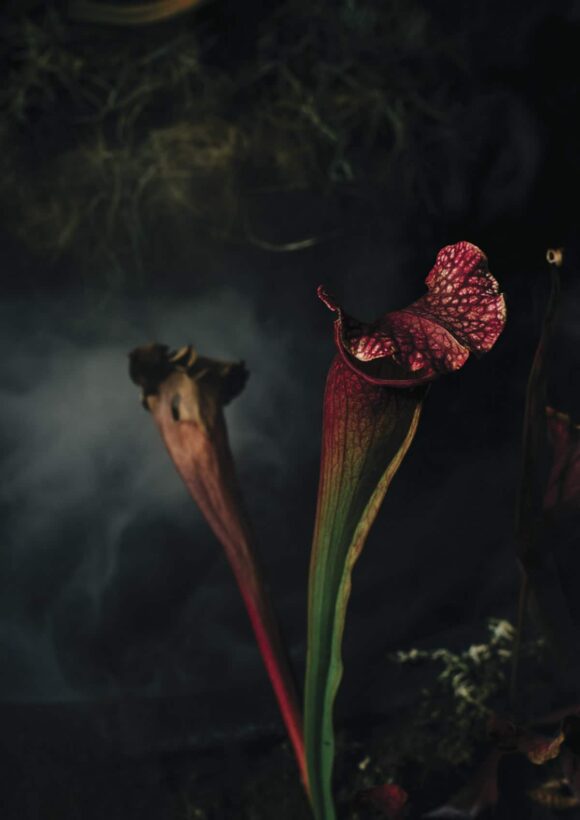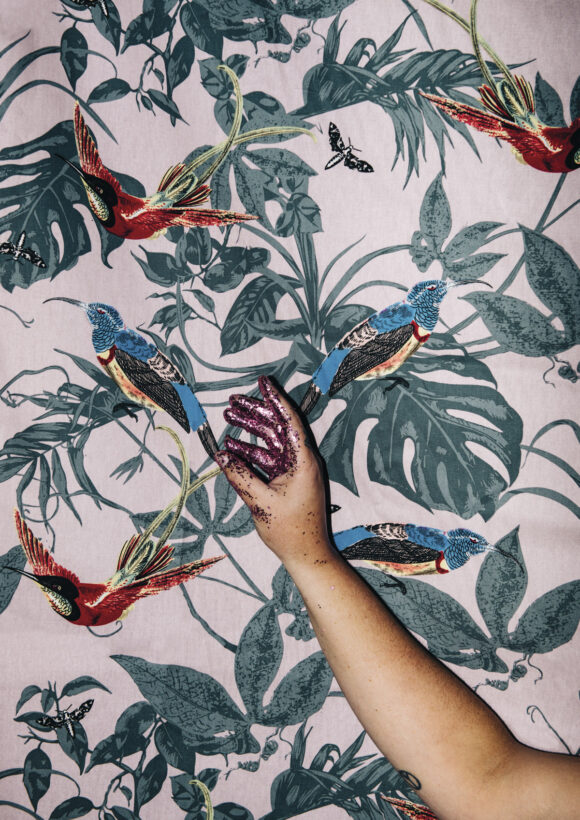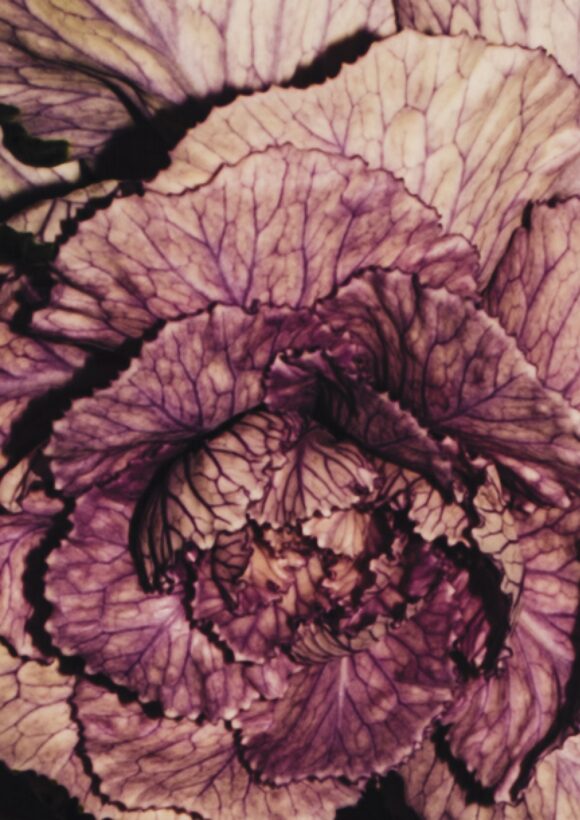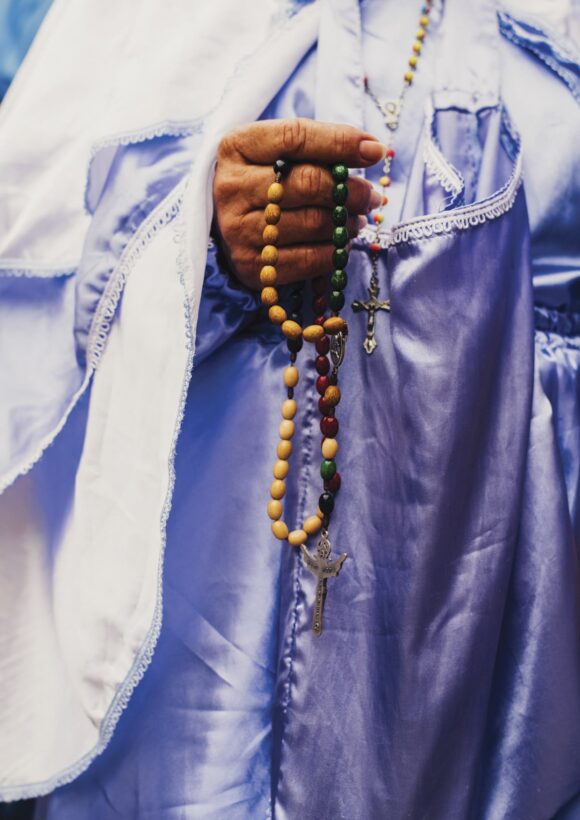 © Cecilia Sordi Campos