With Récupérer Nos Corps (Getting our bodies back, ed.), a project combining written testimonies and photographs, non-binary artist La Fille Renne denounces the systemic violence in gynaecological and obstetrical environments. A long-term project defying censorship and taboos in order to shed light on blatant injustices. Interview.
Fisheye: Who are you?
La Fille Renne: I'm a non-binary photographer and tattoo artist from Lyon, France, who photographs human beings, intimacy, queerness and travel. I am the co-founder of Polysème Magazine with Raphaëla Icguane, a journal about feminism and art. I also shoot short films – with a collective I created with Laure Giappiconi and Elisa Monteil – inspired by bodies and sexualities.
How would you define your photographic approach?
I would say that it is intimate, therapeutic, committed, sometimes dreamlike and experimental.
Intimate and therapeutic, because I photograph people's bodies and intimacy – a form of selfcare, of way of reconciling with your body.
Committed, because I try to highlight people, figures and sexualities that are usually absent from our representations – especially of the LGBTQIA+ community.
Experimental, finally, because I only work with film, and snapshots. I like to test a lot of different cameras, films and techniques, both before shooting and during the development process, which I do at home. At the moment, I use outdated black and white film from the 1960s or 1970s. I do a lot of tests to be able to develop them on my own and get a usable result.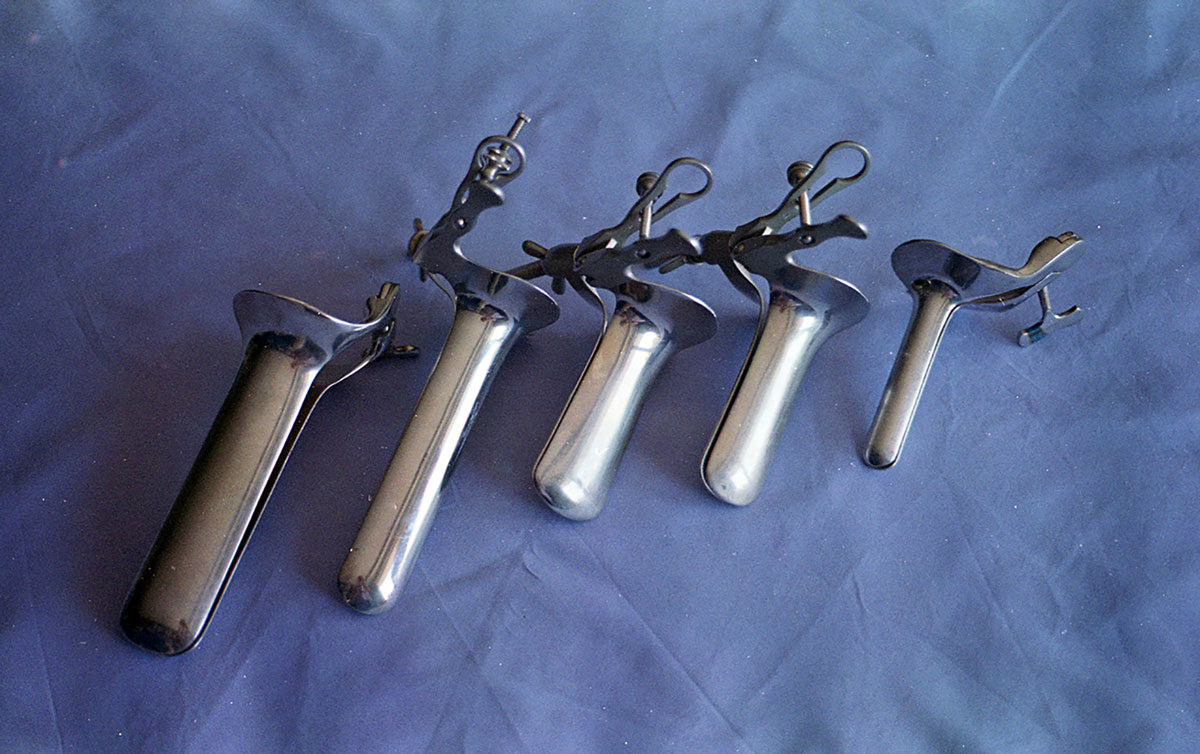 What's the concept behind Récuperer Nos Corps?
It is both a research project and a photographic work on the subject of gynaecological, obstetric and systemic violence against our sexes, in the context of health.
I wrote an essay on the subject to address these issues in France from an inclusive point of view. I'm now supplementing it by meeting the people concerned: I collect their testimonies and photographe them. I find it interesting to combine research and images. Because reading a simple text, or seeing a portrait of people who experience this violence, does not have the same impact.
How is this project evolving?
In addition to combining research and photography, I am also approaching this project from an inclusive and intersectional perspective: this theme is mainly dealt with, by and for white, cisgender and heterosexual women, and excludes other realities of life, such as those of transgender people, intersex people, sex workers… Very often, this violence is only approached through the prism of sexism and not through other discriminations which are still very present (racism, fatphobia, validism, slut shaming…)
Why did you start working on such a subject?
This project was born during the first lockdown. I believe that it had a strong impact on each of us, and I needed, for my mental health, to immerse myself in an exciting project.
I've been working for a long time on intimacy – especially that of people assigned female at birth and queer individuals. There are very strong taboos in our culture on these subjects, which it is important to fight against – on sexuality, masturbation, menstruation, the anatomy of vulvas, gynaecological violence, etc. While everyone knows how to draw a penis, testicles and how to locate the glans, a vulva or a clitoris is a problem. How can we show respect to these organs or denounce the violence and mutilation inflicted on them, if we don't even know that these organs exist?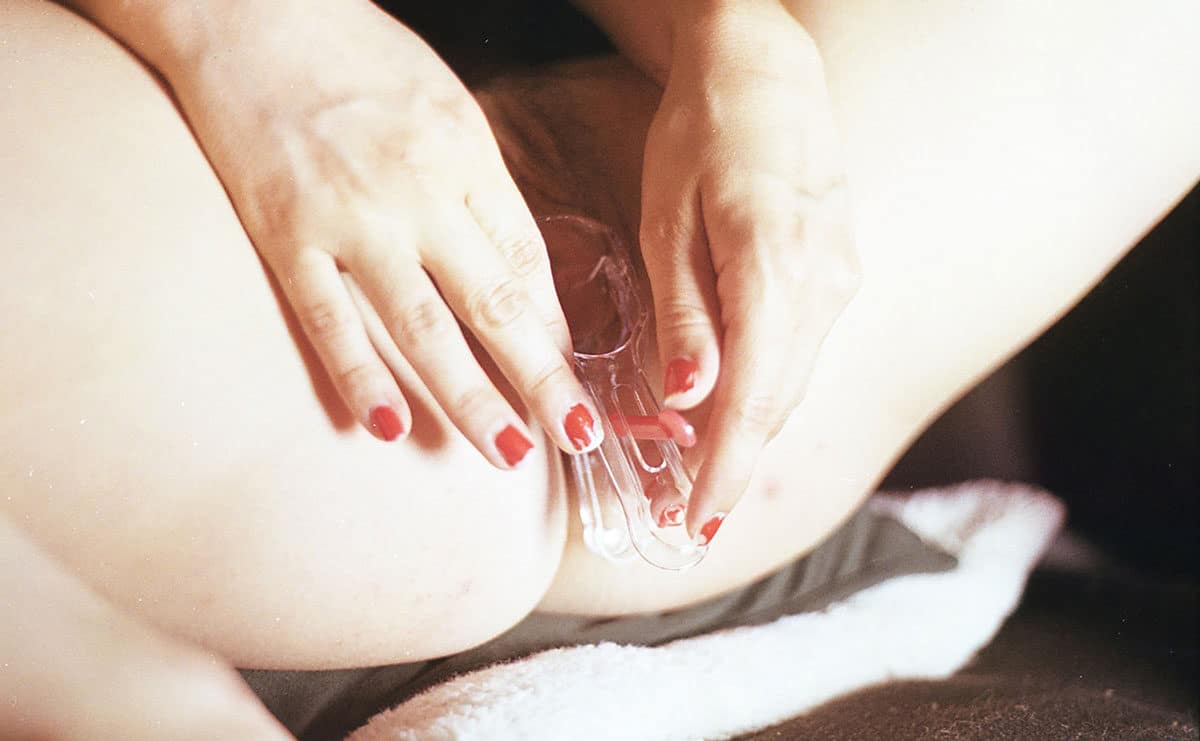 Where do you think this violence comes from?
Sexism and misogyny are at the root of it. They damage our bodies and genders even in the health field. The medical profession, and more particularly the gynaecological and obstetric fields, are imposed as tools of patriarchy and control our bodies, our reproduction system and our sexuality. In the end, we are less interested in our health and well-being than in our reproductive work and the injunctions we have to comply with.
What did you want to highlight above all?
If the hashtag #PayeTonUtérus has allowed those concerned to free their word since 2014, this violence, fuelled by sexism and the heritage of a misogynistic culture is all the more accentuated towards minorities.
I also address the systemic violence of a capitalist system that sells us toxic products by using injunctions towards our bodies: from useless and harmful intimate hygiene products, to periodical protection containing toxic components, to the abuse from applications that allow us to follow our menstrual cycle.
Finally, this work presents the feminist reappropriation of gynaecological knowledge by those concerned, in order to fill in the gaps and fight against this violence: self-help, sharing knowledge, teaming up, searching for alternative care solutions…
How did you make the photographs for the project?
I am the author of all the photographs of the project. They all illustrate the different testimonies. A call for entries, which has been underway for a year, has enabled me to meet and photograph around sixty people. The photos are then selected at the end of the session out of my favourites, in collaboration with the person concerned.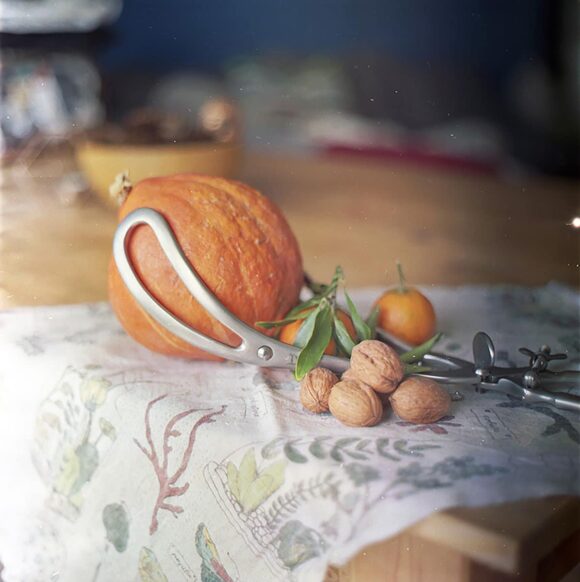 Are you still gathering information today?
Yes, although the work on the essay is coming to an end, it will require long phases of correction. I am also continuing to meet people who want to testify, because for the moment I don't think the project has achieved the desired plurality of voices and experiences. I have, for example, mainly made portraits of young, white people, which is not representative of all experiences. I am now looking for models to talk about very specific issues – abortion before it was legal in France, pregnancy when you are a transgender man, gynaecological or obstetric violence in the context of incarceration, racist violence in obstetric follow-up, etc. People who are not necessarily easy to find!
What was the impact of these testimonies on you?
I didn't learn many new things, but the impact was quite different. It's one thing to write about the systemic dimension of this violence, and to see how sexism is a pillar of our societies, which comes to rot even in our bellies, but to launch a call for entry and to receive so many messages from people concerned over the last year is quite another. It's quite chilling. I realised to what extent women and those assigned women at birth have learned to deny or minimise their pain and to trivialise violence. And that also brings me a lot in terms of human interactions.
How do you deal with the censorship of social networks around such a project?
It makes things very complicated. Some testimonies are not directly related to violence, but rather arise from a desire to reappropriate it. These testimonies can be illustrated by vulvas, cervixes, menstrual blood, dicklits (transformation of the clitoris after taking testosterone), squirting, etc. These images are obviously not publishable.
Yet, the Instagram rules state that "images depicting breastfeeding, childbirth and the postpartum period, health-related situations (e.g. mastectomy, breast cancer awareness or sexual reassignment surgery) or an act of protest" are allowed. And indeed, accounts that specialise in childbirth photos manage to post their work, but I don't.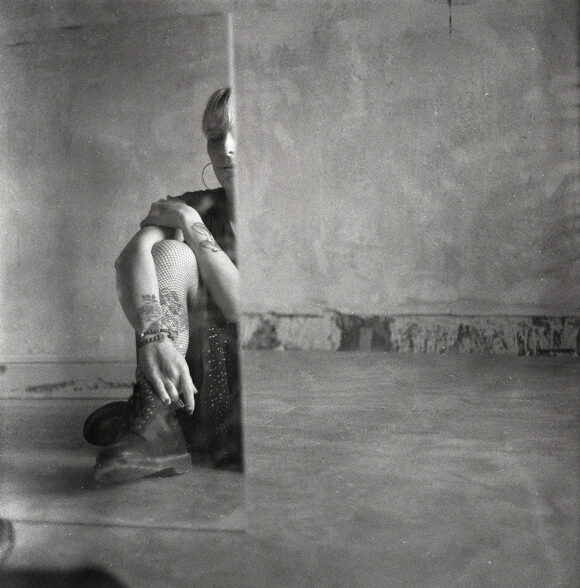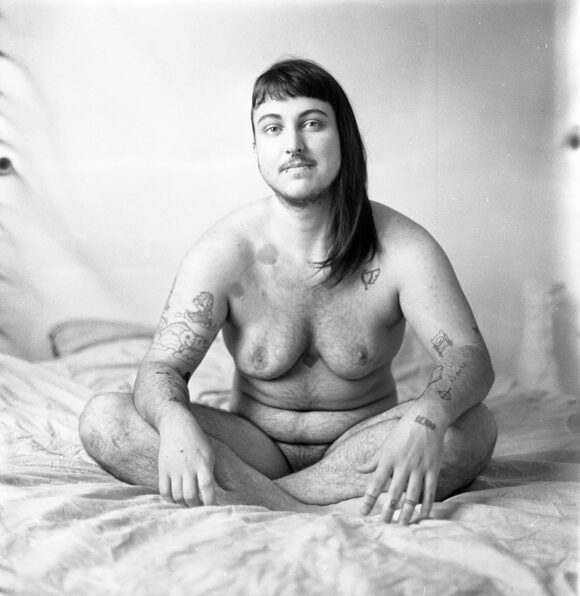 What are the consequences of this lack of visibility?
I am shadow banned almost all the time – like most feminist activist accounts are – which means that my work has very little reach. It is, moreover, a project that I do in my spare time and finance myself. All the costs are at my expense: film, developing chemicals, materials, travel… It's really a long-term activist project.
Fortunately, some people who wish to testify contribute to the costs, and other photographers give me outdated film from their stock, which they do not use.
Do you plan to publish this work afterwards?
Yes, the whole thing – essay, testimonies, photographs – should be published in a book around spring 2022 by Polysème Magazine (which is gradually developing into a micro-publishing structure). I hope that it will then find its place in a major publishing house, but in the meantime, I think it is important for all this knowledge to be disseminated. An episode dedicated to this project will also soon be broadcast in the French podcast L'Inclusive.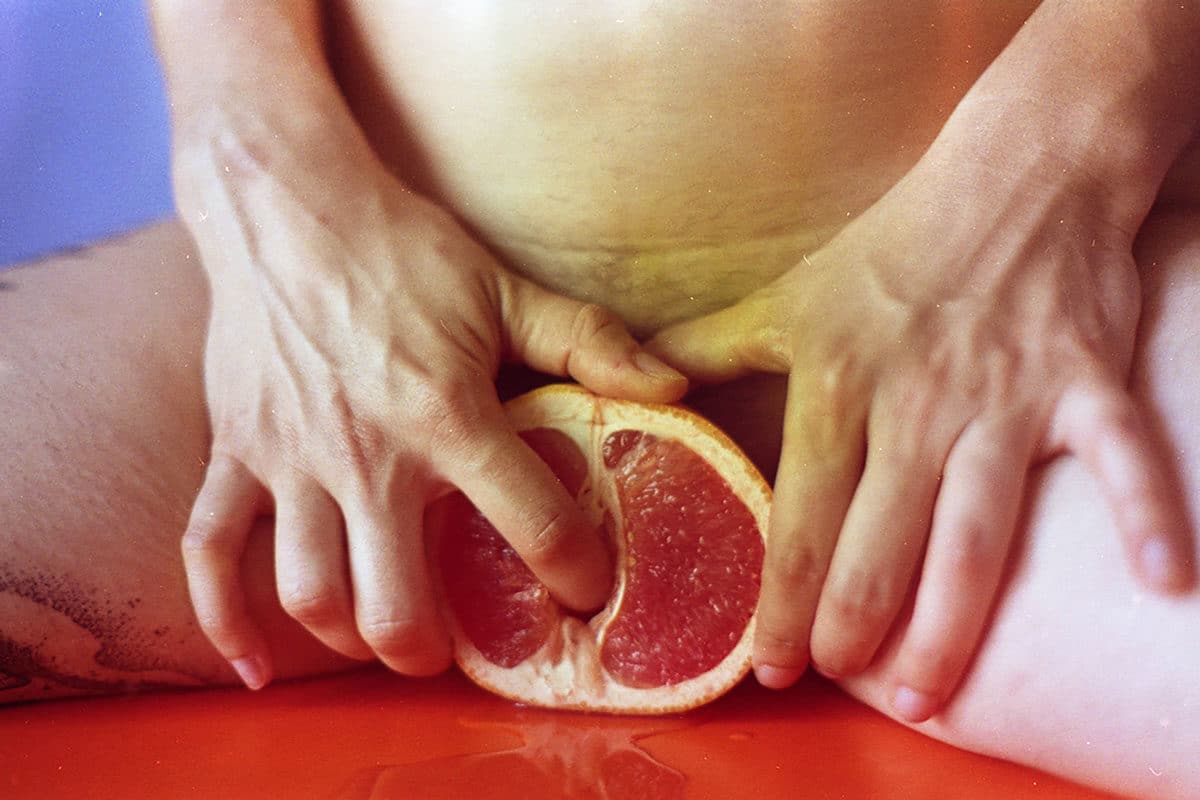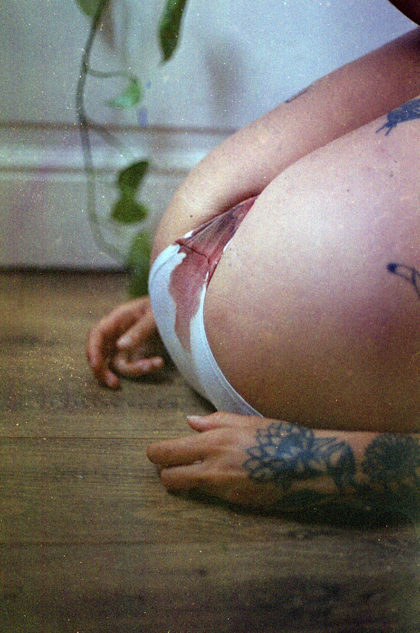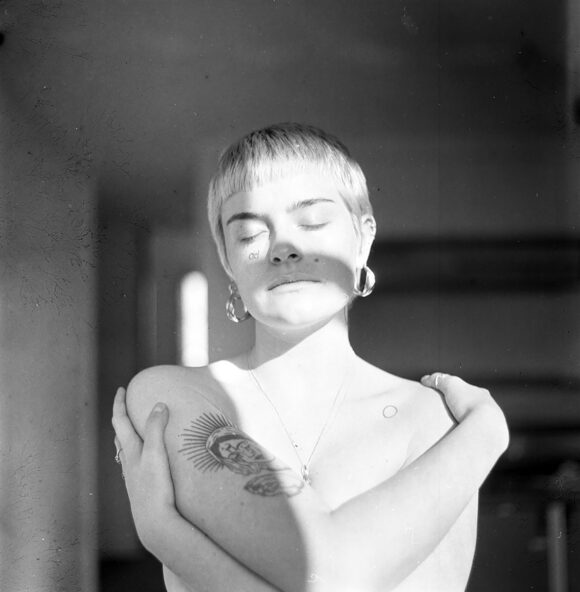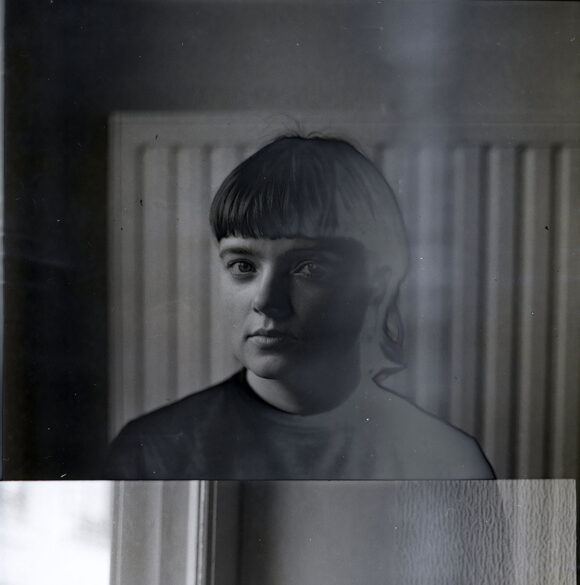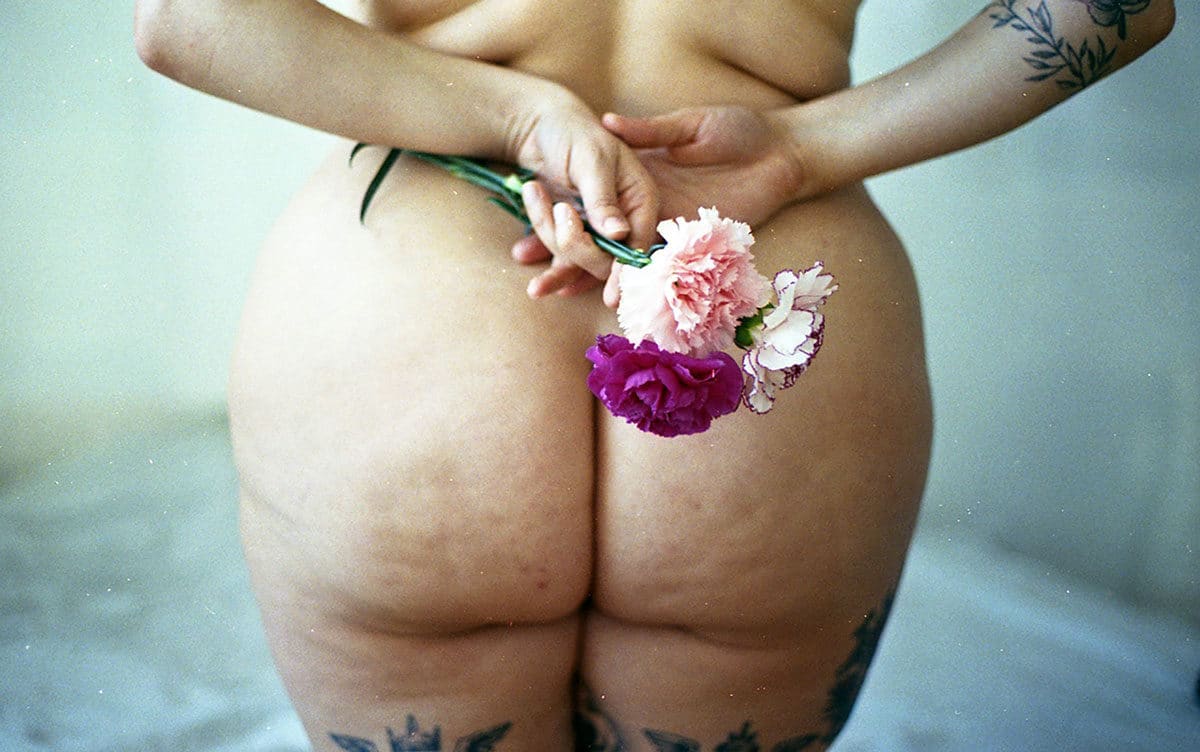 © La Fille Renne